Bollywood Khichdi
Manish Malhotra is the man behind bollywood fashion. Before him, there really was nothing CALLED bollywood fashion. So when you go for a show of his, you have to go see it with a pinch of salt and a lot of bling! Its expected and thats fine.
I have usually liked his bollywood designs in the past, full of colour and chamak but this time it just went all wrong. It was a total bollywood bling khichdi!
There was too much happening in most looks. Velvet + lace + Net + zardozi.
Ensembles that were plain either on top or on the skirt worked better.
There are some pieces I quite liked in the whole collection. But all of them together were really overwhelming at the time of the show. Such as this red stripe embellished anarkali. I am able to appreciate it only now, that I look at the picture. During the show, it was completely lost in between then very heavy chamak dhamak pieces.
Also I didnt get the use of so much velvet when its not a fabric which is very 'IN' these days. It gave me a very stuffy feeling somehow. I liked pieces without the velvet, as they were any way heavy, the use of velvet just weighed them down even more
And some pieces were more Sabyasachi than Manish Malhotra, which is quite odd, given their cold rivalry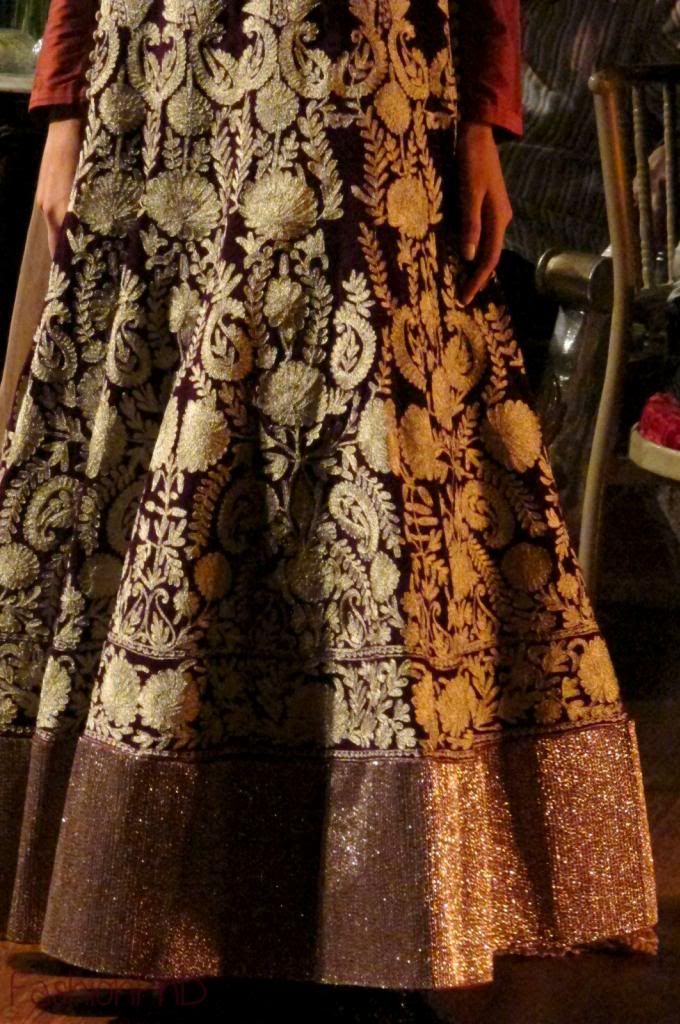 This was probably my favourite piece in the show, with the Gujrati style sheer tunic, as it had some design element to it, other than just piling on one binged out fabric over the other.
Also the pale pink was a breath of fresh air after the heavy maroons and navy in velvet.
Another problem I had with this show was that the aspects of the ensemble that should have been highlighted were not. All the anakali`s had these really pretty pants underneath them with zardozi work on the edge. But the looks were styled in such a way that they were hidden completely!!
Also Christian Louboutin had made all the shoes for this show, and they will be sold under a new line ' Christian Louboutin For Manish Malhotra' and these were some of the most gorgeous Loubs ever. Again not highlighted!
I also quite liked the spanish bell sleeve he used, another design element rather than bling.
What was MORE amazing than the clothes was the RUNWAY. It was made like a Maharaja`s living room, with lovely sofa`s and chandeliers. The runway took the cake, while the clothes looked like tiered cake!
Were YOU awestruck by Manish Malhotra`s Couture line or overwhelmed?